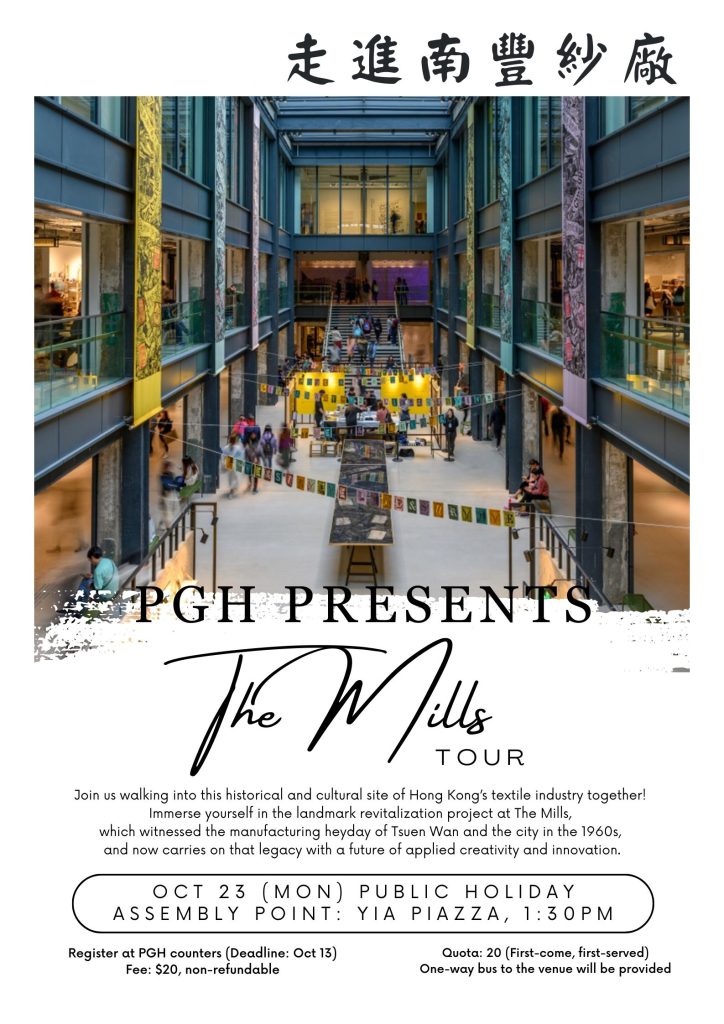 Dear residents,
PGH Activity: The Mills Tour on 23 October (Mon)
走進南豐紗廠
**Final deadline of registration: extended to 18 Oct (Wed)**
The Mills is a landmark revitalization project from Nan Fung Group completed in 2018. A destination consisting of a business incubator, experiential retail, and a non-profit cultural institution may be relatively unfamiliar to Hong Kong people; yet you will discover from The Mills' vision and history that it is a purely Hong Kong story.
The Mills witnessed the manufacturing heyday in the 1960s, and now carries on that legacy with a future of applied creativity and innovation. Visitors can explore the continuity of an authentic Hong Kong story, where themes of textile and industry are woven into experiences of innovation, culture, and learning.
During this guided tour, you will learn about the reinvention of former Nan Fung cotton-spinning factories into The Mills; the transformation of Tsuen Wan's textile past into a Techstyle future. The guided tour covers The Mills' historic attractions, which are colourful spots for stylish photography, and CHAT's "Welcome to the Spinning Factory!" exhibition where you can experience the manual cotton-spinning process using traditional spinning instruments or even has a chance to design and create your own cotton label!
Let's walk into this historical and cultural site together!
南豐紗廠 TheMills 自開幕以來,便成為香港文化藝術地標。紗廠裡面有多間本地創作精品店,別無分店的藝術風特色cafe,充滿風格的環境及裝修更是文青打卡好去處。
是次研宿組團除了參觀展覽,更安排了專員講解五大美照打卡熱點:巨型無名英雄壁畫、外牆壁畫街、紗廠坊地下原貌支柱建築、懷舊工業風後樓梯,及藝術園藝天臺公園。
此團尚有少量名額,有興趣的同學緊記周日前到宿管櫃檯報名,一起走進香港活化歷史文化建築的國度吧!
Details of the tour are as follows.
Date: 23 October 2023 (next Monday) Chung Yeung Festival public holiday
Assembly Point and Time: YIA Piazza bus stop (YIA 3, 4 號線校巴站廣場) at 1:30pm
(PGH will provide one-way bus to The Mills; The Mills operates free shuttle bus to Tsuen Wan MTR)
Tour Time: 2:30pm – 3:30pm
(1-hour tour, afterwards dismiss on site for free time to shop around, hop around cafes and workshops, etc.)
Language: English, supplemented by Putonghua (exhibition descriptions are bilingual)
Quota: increased to 25 students (first-come, first-served)
Deposit: $20, refundable after attendance
(We thank PGH Office for newly sponsoring the tour fee!)
If you are interested in the tour, please register and pay in cash at the counter of JCPGH 1 (For JCPGH 1 residents), JCPGH 3 (For JCPGH 2&3 residents) or PGH 4 (For PGH 4-6 residents) by 18 October 2023 (Wed). Please contact enquiry.pgh@cuhk.edu.hk for enquiries.
We look forward to your participation!
PGH General Office
16 October 2023