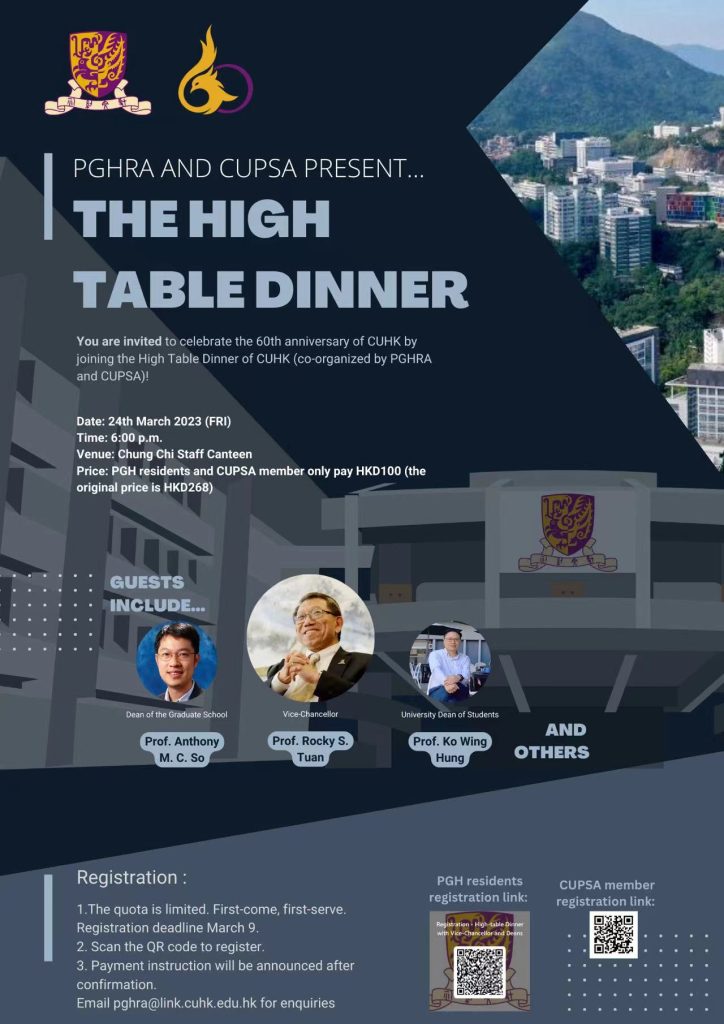 Dear PGH residents:
In celebrating the 60th anniversary of CUHK, a High Table Dinner which co-organized by PGHRA and CUPSA will be held in anticipation. The PGH residents are invited to attend and enjoy the dinner with the leaders of the University and Graduate School. And there will be a distinguished guest speaker at this High Table.
All PGH residents are cordially invited to join the High Table Dinner, details are as follow,
Date: 24th March 2023 (FRI)
Time: 6:00 p.m.
Venue: Chung Chi Staff Canteen
Price: HKD100 for PGH residents (the original price is HKD268)
Guests:
Prof. Rocky S. Tuan (Vice-Chancellor)
Prof. Anthony M. C. So (Dean of the Graduate School)
Prof. Ko Wing Hung (University Dean of Students)
Prof. Shaw Pang Chui (Master of PGH)
Prof. So York Kee, Clement (Warden of JCPGH 1)
Dr. Lee Chui Ping (Warden of JCPGH 2)
Prof Chan Ho Yin, Edwin (Warden of JCPGH 3)
Registration:
The quota is limited. First-come, first-served.
Registration deadline is 9th March.
Fill in the e-form below to register.
Registration fee is HKD100, cash only. The payment will be done on the reception of the PGH 1, 3 and 4. Details will be given on the confirmation email later.
Important Notes:
Successful applicants will receive a confirmation email on or before 13th March. Those members who are unsuccessful will be in the waiting list.
Please avoid cancelling your reservation if you are successful.
Dress code: smart casual.
Please pay attention to the confirmation emails after registration. Thank you for your participation and support.
Best Regards,
PGHRA