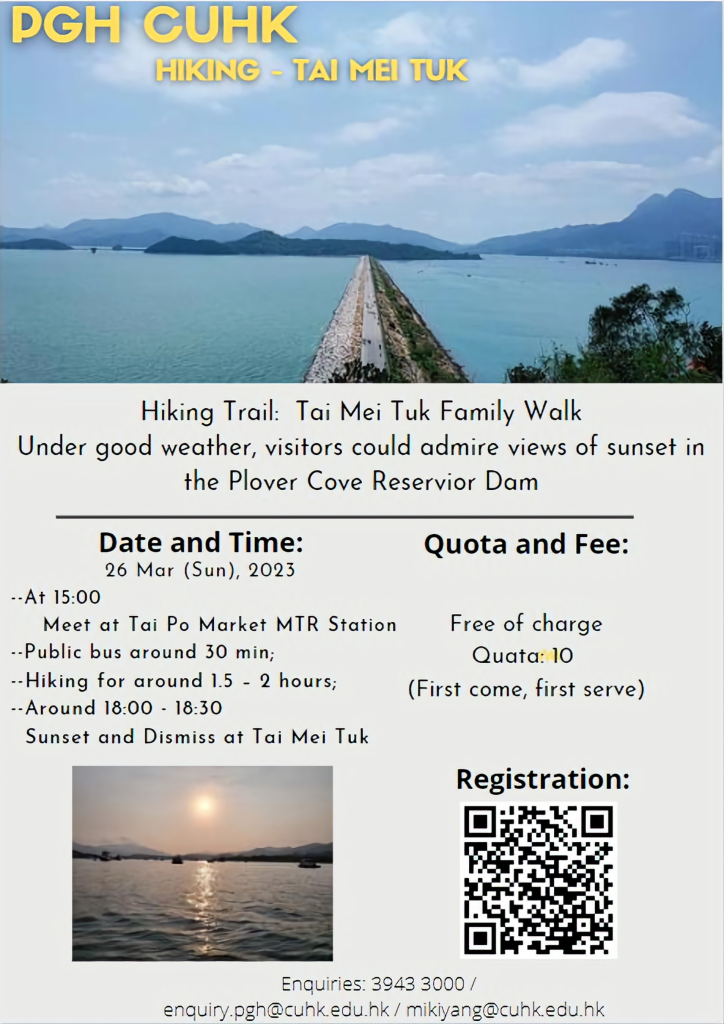 Dear PGH residents,
Before the start of April, would you like to enjoy an extremely stunning view from Tai Mei Tuk? We are now organizing a hiking event in Tai Mei Tuk. Details of the event are as follow:
Hiking Trail:  Tai Mei Tuk Family Walk
Under good weather, visitors could admire views of the sunset at the Plover Cove Reservoir Dam
Date:
26 Mar 2023
Quota:
10 (First-come, first-served)
Fee:
Free of charge (participants need to pay for their public transportation, drinks, etc.)
Route:
Bus to Tai Mei Tuk– Tai Mei Tuk Family Walk– Sunset at Plover Cove Reservoir
Details:
–At 15:00
Meet at Tai Po Market MTR Station
–Public bus around 30 min;
–Hiking for around 1.5 – 2 hours;
–Around 18:00-18:30 Sunset and Dismiss at Tai Mei Tok (Participants could take buses to Tai Po/have dinner/wait for the sunset on their own after the trip)
Difficulty:
★★☆☆☆
View:
★★★☆☆
Preparations:
Sports shoes, enough drink, light food.
Register:
If you are interested in the activity, please register on the Webform here from 21 Mar noon 12:00 to 23 Mar noon 12:00. Successful registrants will receive a notification email on 23 Mar 2023.
We look forward to your participation!
Enquiries: 3943 3000 / enquiry.pgh@cuhk.edu.hk / mikiyang@cuhk.edu.hk
Best Regards,
PGH General Office