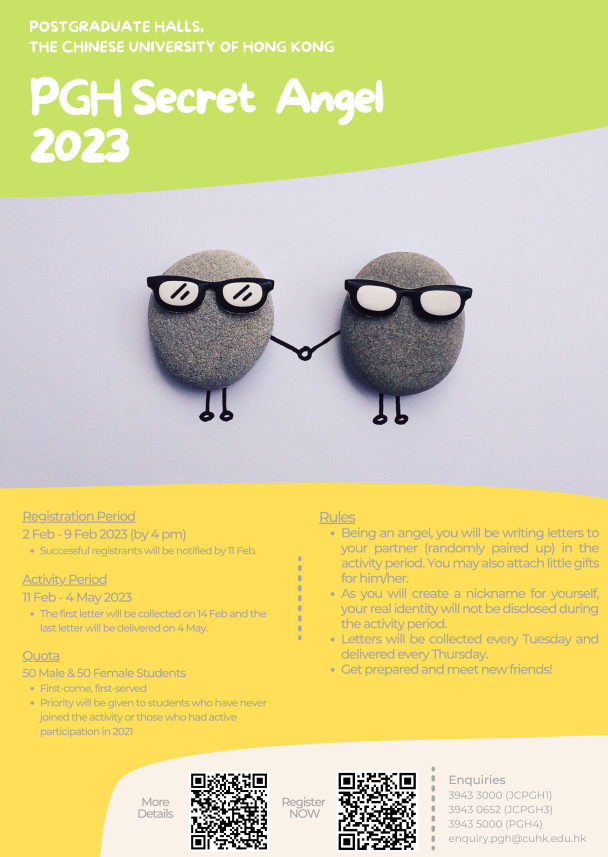 PGH Activity: Secret Angel 2023
Dear residents,
Do you want to meet new friends in PGH? The upcoming activity "PGH Secret Angel 2023" may be a good chance for you! Below are some basic information of the activity:
Activity Period
11 Feb – 4 May, 2023 (The first letter will be collected on 14 Feb and the last letter will be delivered on 4 May)
Quota
50 male & 50 female students
–        First-come, first-served
–        Priority will be given to students who have never joined the activity or those who had active participation in 2021
Rules
–        Being an angel, you will be writing letters to your partner (randomly paired up) in the activity period. You may also attach little gifts for him/her.
–        As you will create a nickname for yourself, your real identity will not be disclosed during the activity period.
–        Letters will be collected every Tuesday and delivered every Thursday.
For more details of the activity, you may refer to the link here. If you are interested in the activity, please register on the Webform here from 2 Feb 2023 (Thu) to 9 Feb 2023 (Thu) 4 p.m.. Successful registrants will receive a notification email by 11 Feb.
We look forward to your participation!
Enquiries: 3943 3000 (JCPGH 1) / 3943 0652 (JCPGH 3) / 3943 5000 (PGH 4) / enquiry.pgh@cuhk.edu.hk
PGH General Office
7/2/2023