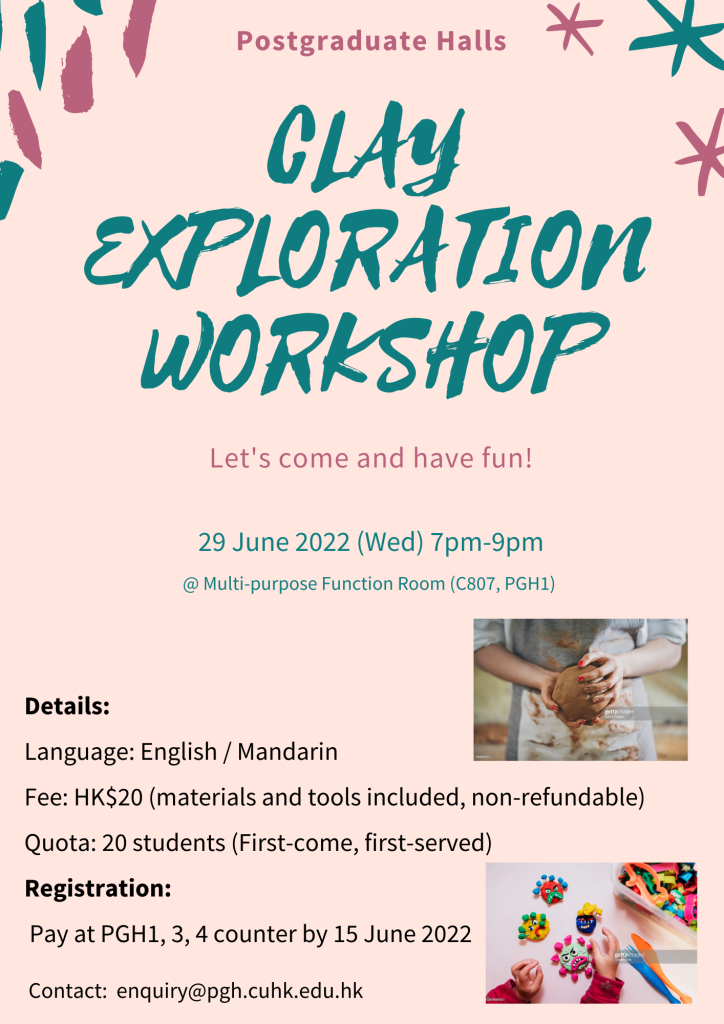 PGH Activity: Clay Exploration Workshop on 29 June
When facing many changes and uncertainties, it is important to take a moment to relax and be kind to yourself. Through exploring and playing with stone powder clay, it encourages participants to release stress, stay mindful, and cultivate creativity in a comfortable and safe environment. It also reminds participants the importance of self-awareness and living in the moment, which enhance their self-understanding, improve confidence and self-acceptance as well as gain satisfaction throughout the creative process. Participants don't need to have any artistic background. Just bring your curiosity and open heart to join the workshop!
Date: 29 June 2022 (Wed)
Time: 7pm – 9pm
Venue: Multi-purpose function room (C807), JCPGH 1
Language: English / Mandarin
Quota: 20 students (First-come, first-served)
Fee: HK$20 (materials and tools are included, non-refundable)
If you are interested in the workshop, please register and pay in cash at the counter of JCPGH 1 (For JCPGH 1 residents), JCPGH 3 (For JCPGH 2&3 residents) or PGH 4 (For PGH 4-6 residents) by 15 June 2022 (Wed). Please contact enquiry@pgh.cuhk.edu.hk for enquiries.
All are welcome. We look forward to your participation!