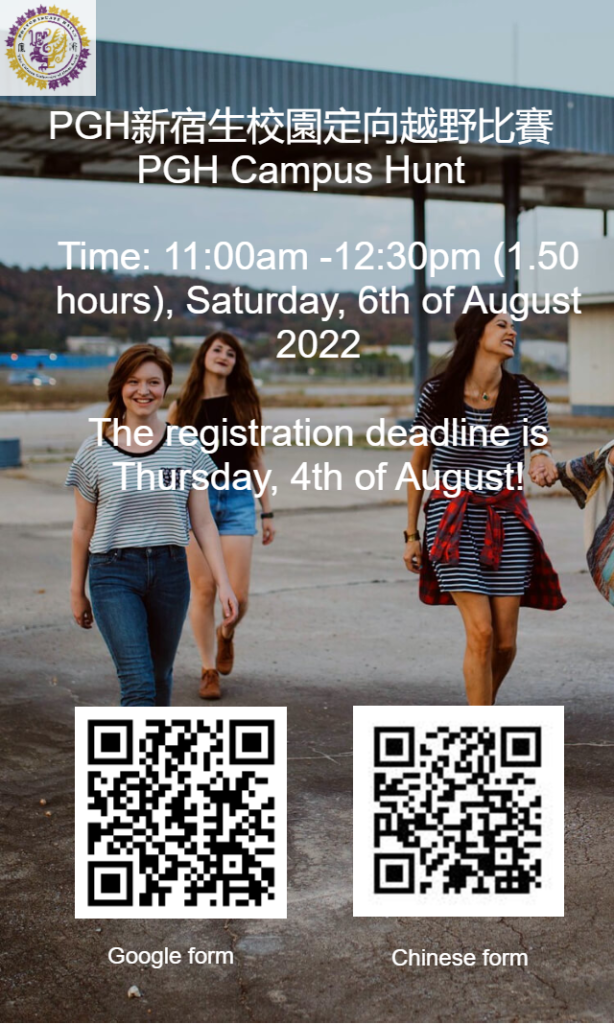 Dear new PGH residents,
Welcome to CUHK! We would like to invite you to our exciting CUHK Campus Hunt competition, where you can learn and showcase your ability to search and identify different locations around our vast campus. What's more, you will be paired with fellow peers residing in PGH and work together as a group! Exclusive prizes and fun await all the participants by the end of the event.
Please click the link below to sign up for the competition:
Google: https://forms.gle/sFpc3PRdFHCQTUuZA
Alternative: https://www.wjx.cn/vm/Pp8lSr8.aspx
The registration deadline is Thursday, 4th of August!
Prizes
1. The first group to complete the campus hunting exercise will receive 50 HKD cash coupon (each member).
2. ALL participants (excluding the winner) will receive complementary gifts from our PGHRA members.
Time
This event is scheduled to hold on Saturday, 6th of August 2022. The time set for the event and completion of the exercise is 11:00am -12:30pm (1.5 hours). In case of bad weather, the event will be postponed.
If you have any questions, please feel free to contact cupghra@gmail.com. We will try our best to reply within two working days.
We hope to see you all soon and let's have an amazing time!
The Postgraduate Halls Residents' Association (PGHRA)
親愛的新PGH宿生們,
歡迎來到中大!
為了使大家更快融入校園生活,我們誠邀您參加激動人心的中大PGH新宿生校園定向比賽,在這個比賽中您對新的廣闊校園不同地點的搜索和識別能力將得到展示。更重要的是,您將有機會與居住在PGH的新同伴結對,作為一個團隊一起參加活動!活動結束後,所有參與者都將獲得獨家獎品和樂趣。
請點擊以下連結或掃描二維碼報名參加比賽:
https://forms.gle/sFpc3PRdFHCQTUuZA
報名截止日期為8月4日星期四!
獎品
1.第一批完成校園定向的個人/隊伍將獲得50港幣現金券(每位成員)。
2.所有參與者(不包括第一批完成者)將獲得來自於PGHRA的驚喜禮品。
時間:
本次活動計劃於 2022 年 8 月 6 日星期六中午舉行。
活動時間為:11:00 – 12:30(1.5 小時)。
如果天氣不好,活動將延期
如果您有任何問題,請隨時聯繫 cupghra@gmail.com。
我們將盡量在在兩個工作日內回覆。
我們期待與您的見面,和我們一起度過一段美好的時光!
研究生宿舍宿生會(PGHRA)