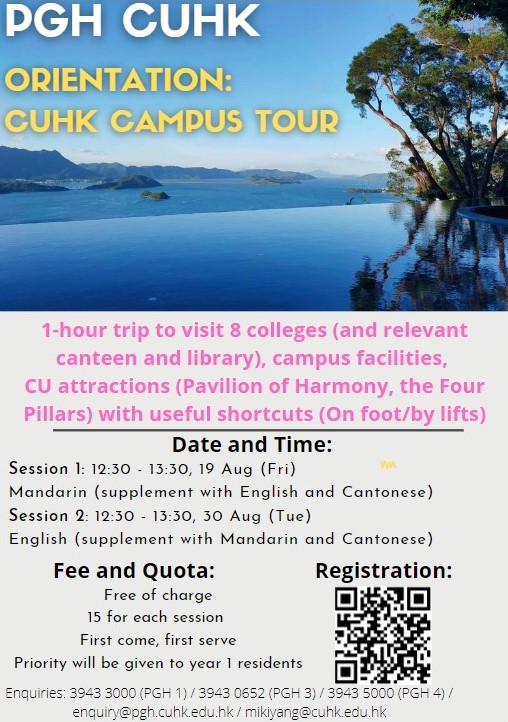 PGH Orientation – CUHK Campus Tour
A 1-hour trip to visit 8 colleges (and relevant canteen and library), campus facilities and CU attractions (Pavilion of Harmony, the Four Pillars) with useful shortcuts.
Date:
Session 1: 12:30 – 13:30, 19 Aug (Fri);
Mandarin (supplement with English and Cantonese)
Session 2: 12:30 – 13:30, 30 Aug (Tue);
English (supplement with Mandarin and Cantonese)
Quota:
15 for each session; First-come, first-served; Priority will be given to year 1 residents.
Fee:
Free of charge
Venue:
CUHK campus, meet and dismiss around University MTR station
Register:
If you are interested in the activity, please register on the Webform here. Successful registrants will receive a notification email about 2 days before each session (only successful registrants will be contacted).
We look forward to your participation!
Enquiries: 3943 3000 (PGH 1) / 3943 0652 (PGH 3) / 3943 5000 (PGH 4) / enquiry@pgh.cuhk.edu.hk / mikiyang@cuhk.edu.hk