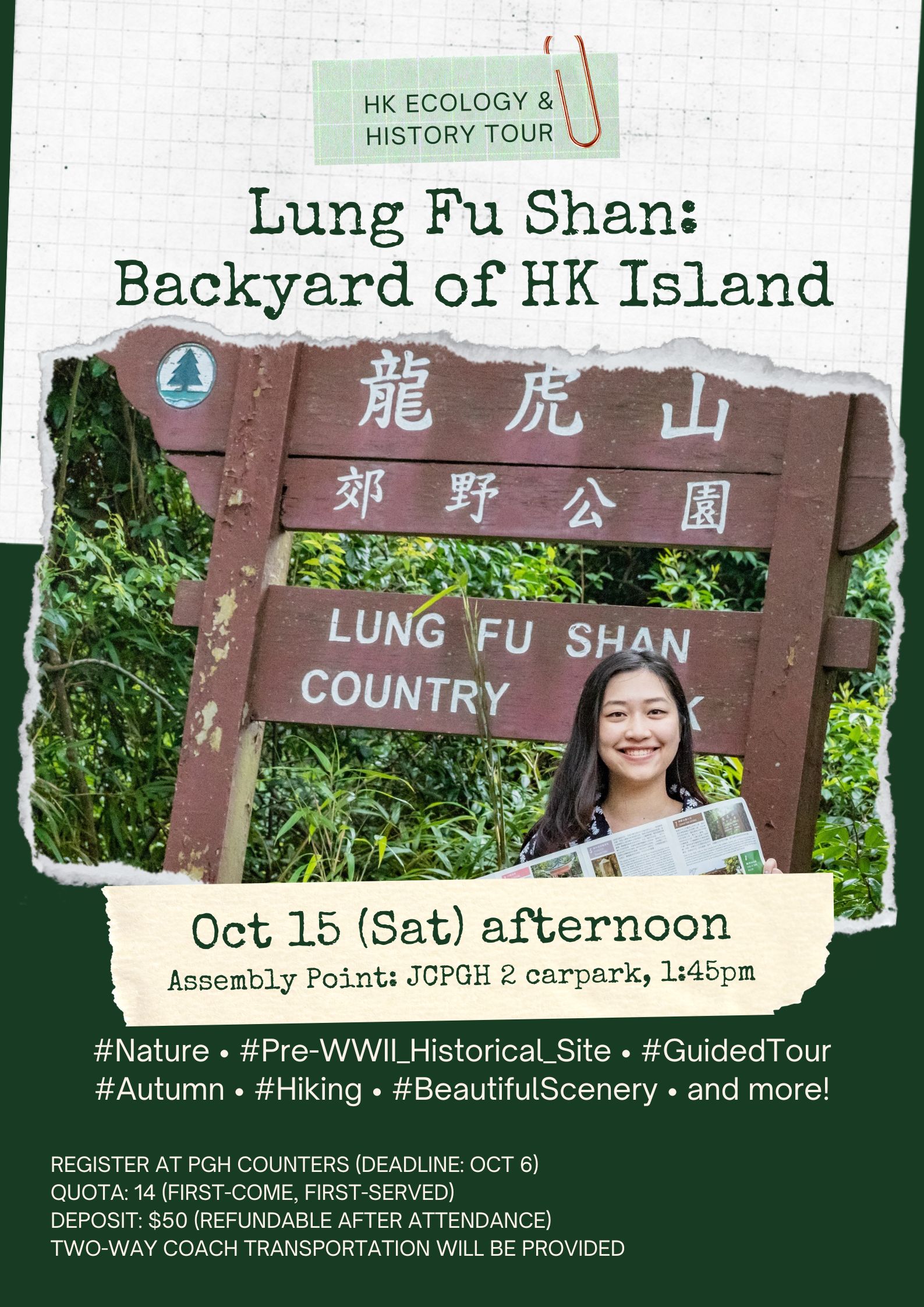 PGH Activity: HK Eco-tour – Lung Fu Shan on 15 October (Sat)
港島西後花園:龍虎山導賞團
**Deadline of registration: 6 Oct (Thu)**
The Lung Fu Shan Environmental Education Centre was the only Environmental Resource Centre established with the cooperation of the government and the University of Hong Kong. Through promoting the exploration of nature, the Centre seeks to build a community inclusive of nature, as well as encourage the public to practice a sustainable lifestyle.
The Centre's garden and exhibition hall are located in a 130-year-old bungalow classified as a Grade 1 Historic Building, apart from the regular exhibition on history, ecology, geology and stories of Hong Kong's nature and the people, the Centre holds a diverse range of themed eco-tours on countryside and urban ecology.
In this guided tour, you will learn about Lung Fu Shan – the backyard of West Hong Kong Island, where you'll see a well-preserved pre-WWII historical site, with existence of 130 bird species and 110 butterfly species ever recorded.
Details of the eco-tour are as follows.
Date: 15 October 2022 (Saturday)
Duration: 3pm – 5:30pm (2.5 hr)
Assembly Point and Time: JCPGH 2 carpark at 1:45pm
(Two-way coach transportation will be provided)
Hiking route: Lung Fu Shan Environmental Education Centre > Victoria Battery > Channelised Stream > Victoria City Boundary Stone > Pinewood Battery
Route Properties: Intermediate (with some slopes)
Language: English
Quota: 14 students (first-come, first-served)
Deposit: $50 (refundable after attendance)
If you are interested in the tour, please register and pay in exact cash at the counter of JCPGH 1 (For JCPGH 1 residents), JCPGH 3 (For JCPGH 2&3 residents) or PGH 4 (For PGH 4-6 residents) from 30 September 2022 (Fri) to 6 October 2022 (Thu). Please contact enquiry.pgh@cuhk.edu.hk for enquiries.
Important notes for participants
Participants must comply with the requirement of the Vaccine Pass by the government, and scan the 'LeaveHomeSafe' QR code. Participants holding the Red Code or Amber Code are not allowed to join this tour.
Participants must wear proper and comfortable hiking gear.
We look forward to your participation!
PGH General Office
30 September 2022