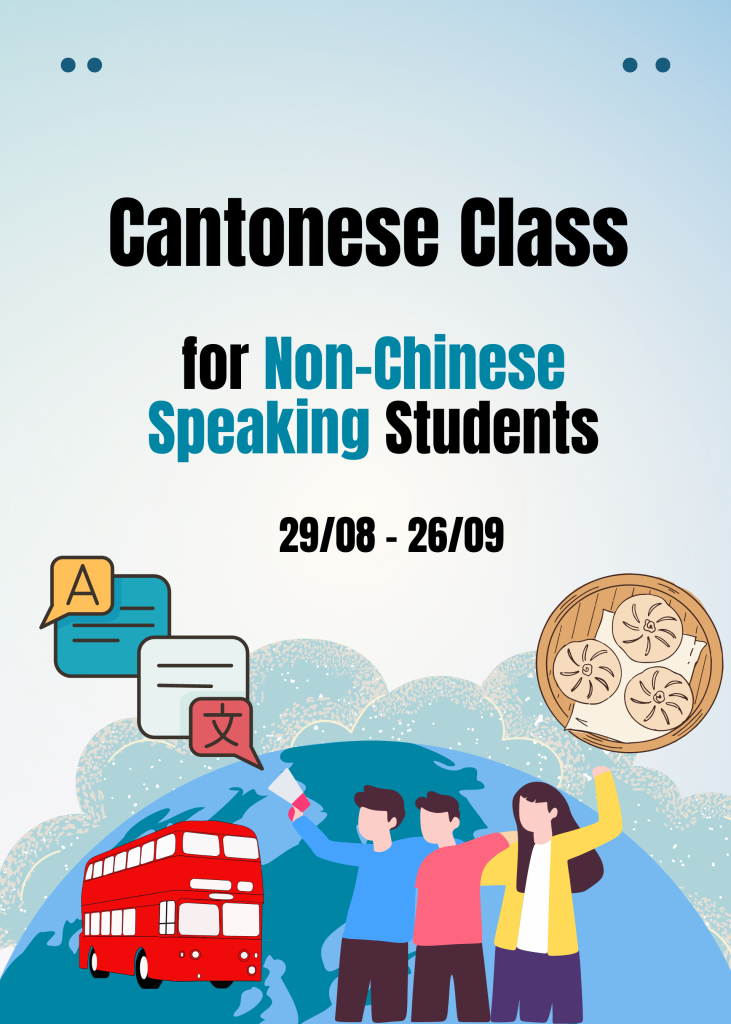 To: All Residents of PGH,
Cantonese Class for non-Chinese Speaking Students 2023
We are organizing a Cantonese Class for non-Chinese speaking students starting in the end of August. This is the perfect chance for you to learn some survival phrases and local expressions with other hallmates in an interactive and fun way.
Details
Date:

29/08, 05/09, 12/09, 19/09, 26/09 (Every Tuesday, 5 sessions)

Time:

7:30 – 9:30 pm

Venue:

Wu Ho Man Yuen Building (Classroom number to be confirmed)

Teaching language:

English and Cantonese

Topics:

1.     Greetings and self-introduction (2 sessions)

2.     University life (2 sessions)

3.     Dining culture in Hong Kong (2 sessions)

4.     Traveling in Hong Kong (2 sessions)

5.     Life in Hong Kong (2 sessions)

Discounted fee:

$400 ($100 refundable for full attendance; all class materials included)
Registration
Enroll and pay cash (no exchange) at PGH 1, 3 or 4 counter by 16 August. First-come, first-served.
Successful enrollees will receive confirmation email with classroom location later.
Enquiry
Tel: 3943 0652 / enquiry.pgh@cuhk.edu.hk
Looking forward to your participation!
PGH General Office
9 August 2023