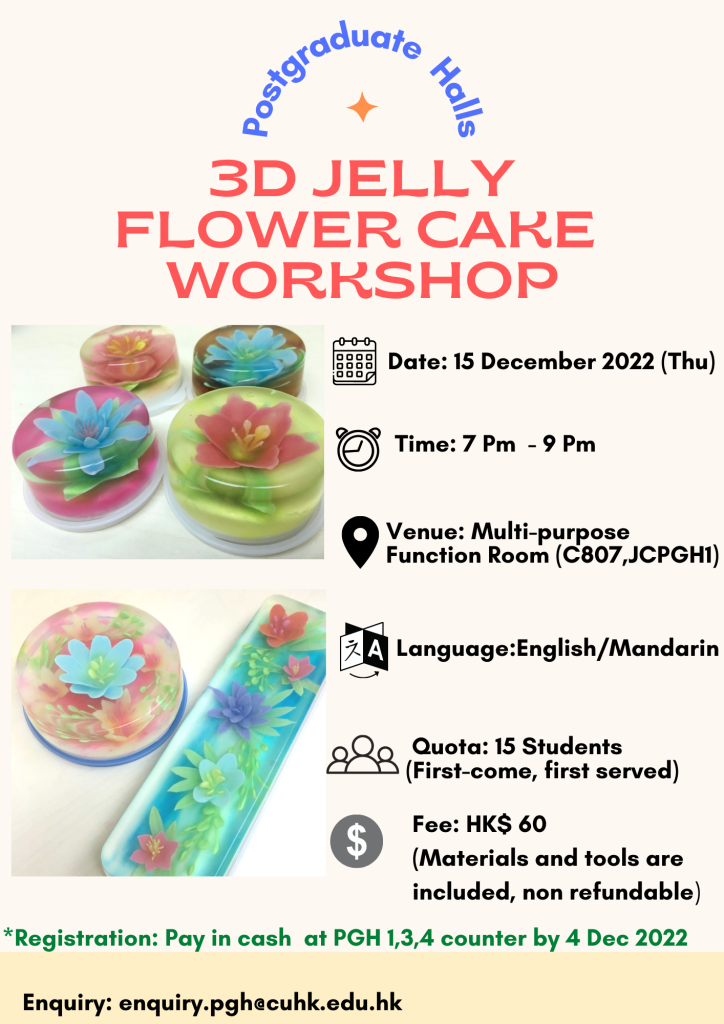 PGH Activity: 3D Jelly Flower Cake Workshop
Dear residents,
3D jelly flower, also known as Art Jelly or Flower Jelly, is originated in Southeast Asian countries. It has lovely appearance and rich colours, with refreshing and smooth taste.
It is easy to make, why not learn how to make it and give it as a hand-made gift to your beloved ones?
Date: 15 December 2022 (Thu)
Time: 7pm – 9pm
Venue: Multi-purpose function room (C807), JCPGH 1
Language: English and/or Putonghua
Quota: 15 students (First-come, first-served)
Fee: HK$60 (materials and tools are included, non-refundable)
If you are interested in the workshop, please register and pay in cash at the counter of JCPGH 1 (For JCPGH 1 residents), JCPGH 3 (For JCPGH 2&3 residents) or PGH 4 (For PGH 4-6 and I-House residents) by 4 Dec 2022 (Sun). Please contact enquiry.pgh@cuhk.edu.hk for enquiries.
All are welcome. We look forward to your participation!
PGH General Office
24 November 2022